In Print
---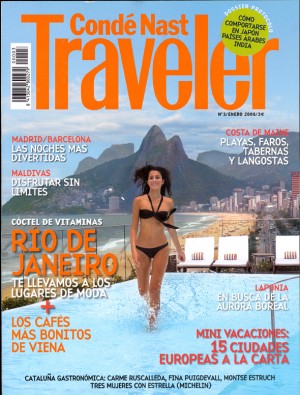 Conde Nast Traveler Espana
Madrid Spain
Our love for Spain. Where to begin.
Well this photo story was on the Riojas wine region of Spain in Alava. It's as much a modern architectural feast as it is home of some of the best wines in Europe. Century old cellars rub shoulders with bold modern architecture for bodegas and futuristic hotels, such as Frank Gehry's Hotel Marques de Riscal, where they serve wine facials with their wine.

Spain's superstar architect Santiago Calatrava has made his limitless mark on the landscape with the otherworldly Bodegas Ysios.
Logroño, the administrative capital and the center of the Rioja wine district has been the centre for the wine trade for centuries. Its home of the best Tapas in Spain that we've experienced so far. A tapas bar the only serves fresh mushrooms sizzling, drizzled with olive oil of course, and wine. More wine.
01 January 2008
---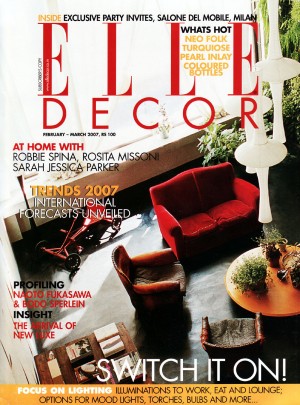 ELLE DECOR
Mubai India
A writer of Elle Decor India contacted us, and the meeting was so enjoyable, it planted the seed even deeper that we must soon find a route to India.

The Indian kitchen is one of our favorite kitchens, and food is reason enough.
01 March 2007
---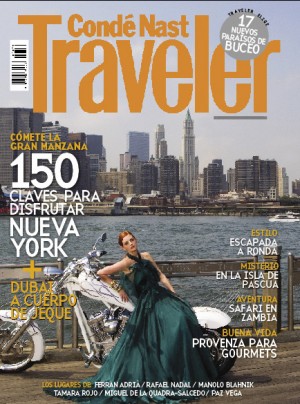 Conde Nast Traveler Espana
Madrid Spain
For a photographer, the first impression makes your job much easier, and signing up for the challenge to photograph your home town, this was challenging. We all get a little used to our surroundings if we see it every day, no matter how remarkable.
It's a really powerful exercise, wherever you live, to take a camera and photograph your own town. You don't have to be a "photographer". It forces you to look closely at the place you call home, and you will walk away seeing things differently.
This quick New York story was particularly challenging because we had 4 days to complete the shooting and editing of the pictures. Some of the pictures, like the photo of "Wisdom, Light and Sound" by muralist Lee Lawrie, also known as the main entrance of 30 Rockefeller Center, was taken a few hours before we had to turn in the pictures for the article.
Going inside the doors of 30 Rock, there are spectacular murals in the lobby. Well there's a wonderful New York story that apparently Rockefeller was interested in Matisse and Picasso to do the mural for the entrance of 30 Rock. Picasso apparently wouldn't even meet with some of the project's architects to discuss the project, and Matisse was appalled by the notion of his work in a bustling office building lobby. The murals ended up being beautifully executed by artist José Maria Sert.
01 November 2007
---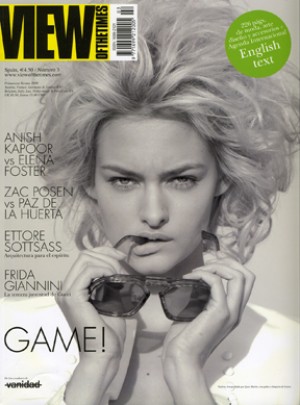 Arco
Madrid, Spain
01 November 2007
---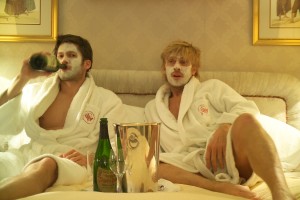 "Hilton Brothers' Stike a Pose"
WWDFRIDAY New York May 27, 2005
WWD Friday, May 27 2005
What Paris and Nicky Hilton are to the paparazzi, photographers Christopher Makos and Paul Solberg aim to be in the art world.
Disgusted by the dumbing down of American culture and the mass media, the lensmen are now tagging their collaborative work "The Hilton Brothers," a tongue-and-cheek swipe at the overexposed celebutantes. "It's a response to contemporary culture," says Solberg, adding that artists like Max Beckman, Otto Dix and Andy Warhol did just the same.
Images of Makos' forthcoming book "Equipose" and Solberg's "Bloom" have been combined for Hilton Brothers' pieces. Both books will be published by Glitterati in October. The plan is to show the same images over and over to make them famous, something Makos said he learned from Man Ray, whom he is quick to note he met toward the end of the artist's life.
The setting for their creative epiphany was certainly Hilton-esque. Makos and Solberg were on assignment in Lanzarote, an island off the coast of Morocco that they say is reminiscent of "Planet of the Apes." Distance from the U.S. always makes Makos take a hard look at the political and cultural landscape, he said.
"We both like a healthy dose of decent trash, but the standards of what's acceptable are sinking to a lower level. We are disgusted by what America is having shoved down its throat. It's happening because the networks can make these reality shows for very little money and as a result many writers are out of work."
In August, the "brothers" will stage their first show at the Sandunga Gallery in Granada, Spain. Another exhibition of their work will be displayed at the ON Art Gallery in Marbella, Spain. For their self-promoting appearences, Makos will wear a horse motif belt and Solberg will sport a flower for special events to clue in outsiders to the Hilton Brothers' identities.
"Of course, the thing is always to get in front of Patrick McMullan's cameras, "Makos said.
- R.F.
06 February 2005
---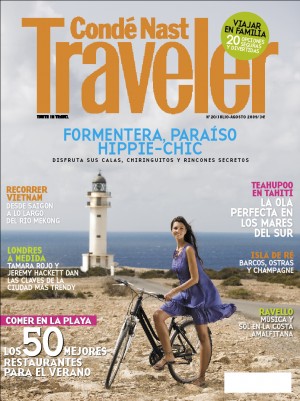 Conde Nast Traveler Espana
The Story of Our Vietnam Madrid,Spain
What started out as a Visit, turned into a Lifestyle. Not only is Vietnam the new Hot spot, its a place where the past collides with the future, and meet somewhere between. But if your a Surfer, or a connoisseur there is something in Nam for everyone.
18 June 2009