OUT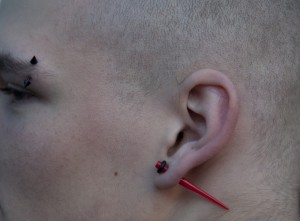 Christopher Makos and Paul Solberg met by complete coincidence: they were riding their bikes on Manhattan's west side when they struck up a conversation about travel. During the next few hours, they found a mutual love of adventure. A friendship and working relationship were born. Their affair with Sweden happened under similar circumstances: the Stockholm museum Fotografiska in the winter of 2010 invited the duo, known for their revealing travel photography and anthropological eye, to the opening of a new show of Makos work with his previous collaborator, Andy Warhol.
On the flight to Stockholm, a flight that happened to feature a gay marriage, Makos and Solbeg met Magnus Lindbergh from the tourism group Visit Sweden, who suggested they do a book. Once there, enraptured by a winter wonderland Makos likened to Narnia, the gentlemen agreed. Instead of focusing on just the touristy parts of Sweden, though, their latest tome, Tattoos, Hornets & Fire: The Millennium Sweden Photographs, out now from Glitterati Incorporated and one of Publisher Weekly's top travel books of 2012 , takes the viewer on a visual journey into a more dreamlike world inspired by Stieg Larsson, the late author of The Girl with The Dragon Tattoo and the rest of the Millennium Trilogy.
"This book is kind of a hybrid book about looking at the world of Stieg Larsson a little but also being a tourist and going to Stockholm," Solberg told us.
Here the men talk about their work, Sweden's emerging food culture, and obeying the rules the light.
Andrew Belonsky

OUT Magazine